Audio Content: Artlink Edinburgh and Lothians
by
Inner Ear were recently asked to record and produce audio content for a collaborative project between National Library of Scotland and Artlink Edinburgh and Lothians, featuring poet Ken Cockburn taking audiences on a special journey through the library. We spoke with Susan Humble from Artlink about the project and the work we delivered as part of it…
Artlink Edinburgh and Lothians is a disability arts organisation based in Edinburgh.
Artlink's project Opening Lines creates descriptive events around the city for sighted and non sighted audiences. During a project with the National Library of Scotland, Inner Ear worked with Artlink to create an audio podcast documenting the final event.
This event was called A Bat Squeak-echo of Other Time, a tour guided by fiction and it led the audience on a journey through the library featuring description, readings and live music. To develop the performance, poet Ken Cockburn worked with library staff, including security guards, cleaners and curators to get to know the building and experience it in different ways. Workshops with visually impaired participants related this particular library and building with fictional accounts of other libraries and other buildings.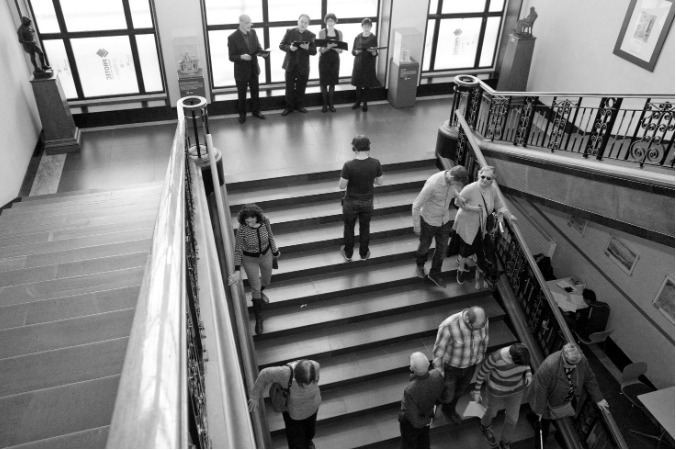 "What a wonderful summary of music and words you've produced from Ken's Bat Squeak presentation. I love the way it's all been woven together representing everyone who contributed, and capturing the delight and surprise both audience and performers experienced on the day. I'm sending it to all my friends to inspire them." – Audience member feedback.
A lot of research went in to this performance; with three performers, two musicians and a choir, also a lot of preparation. To ensure a good experience we had to limit audience numbers, although we wanted lots of people to come along. Inner ear listened to what we wanted to achieve and advised on the best approach.
Inner Ear exceeded the brief we set; the podcast not only captured the performance but also reflects the creative process, the involvement of different people throughout and responses to the final event. With several performers, live music and the changing acoustics around the building we thought it would be difficult to capture the performance. Inner Ear's knowledge and experience made it seem simple.
While live performances offer unique opportunities, with Inner Ear's podcast we can share Artlink's project with a wider audience, increase understanding about the work we are doing and the experiences of the people we are working with. The result is a fantastic record of the project, it will be the key feature of our new website and something we'll be proudly sharing for a long time.
Listen to the podcast Inner Ear produced for 'A Bat Squeak-echo of Other Time' on SoundCloud: