To mark the opening of the grand old Theatre Royal's stunning new foyers, Inner Ear teamed up with Walking Heads to produce a special audio walking tour on behalf of Scottish Opera. The 'Glasgow Corners' tour celebrates the most captivating and unique corners Glasgow has to offer, with their colourful histories and incredible architectural prowess, often entirely overlooked by the residents of this busy big city.
Join Glasgow-based architect Niall Murphy and friends as they explore in-depth the hidden treasures and stories behind Glasgow's most captivating corner buildings. Follow the tailored trail of "corner conversations" as architects and historians reveal the distinctions between Glasgow's stunning and hugely varying corners and the intriguing journeys associated with their creation.
Throughout the tour, we see all sides of the history of the city and each corner's purpose, history and appearance, which all have one thing in common: a sense of the theatrical Glasgow style. From the Grand Central Hotel's impressive introduction to visitors of the old city with original designs by Sir Rowand Anderson all the way to the newly built Theatre Royal Foyers by Page Park Architects, we discover how Glasgow makes turning each corner into an adventure of fine architecture.
So meet us on the corner. Which one? As you can see, the map suggests a route of numbered stops but where you start and stop is entirely up to you. One thing is certain, once you've started, you will want to come back for more.
You can take the Glasgow Corners tour in any order you like. Just use the map to decide where to start and stop.
Scroll down to download the Glasgow Corners tour for free from GuidiGO or Bandcamp.
If you have an iPhone or Android device download the tour through the GuidiGO app (available in the App Store and Google Play). Download the GuidiGO app for free, register an account, search for Glasgow or Walking Heads and install the Glasgow Corners tour.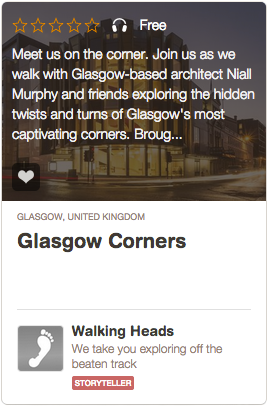 You can also listen to the Glasgow Corners tour on your laptop or any MP3 player by downloading it from our Bandcamp shop for free.
We've really enjoyed working with Scottish Opera and Walking Heads to bring you this tour. All the tours we've produced with Walking Heads provide users with a different reason to get out and explore the city and learn the hidden histories and stories of places, people and culture. Get in touch anytime to let us know how the tour worked for you, to suggest any ideas for future development and discuss how we can help bring your story to life in an engaging and inspiring manner.