As a creative content communications company, Inner Ear have established, managed and developed an online presence for a variety of different music-related brands and organisations. We use content strategically to engage with online audiences and drive traffic to our client's social media profiles and websites.
As part of Words and Music 2014, a national music industry conference held at Perth Concert Hall on 14 & 15 March, our Communications Manager Benny Robb delivered a series of informative workshops based around establishing and maintaining an online presence.
Different online audiences require different approaches and the use of different platforms to reach and maintain relationships. Below are some examples of our recent work with a number of different music-related organisations.
Youth Music Forum Scotland
Since early 2012, Inner Ear have created content and managed communications for Youth Music Forum Scotland  (YMFS) on behalf of Creative Scotland.
YMFS is a portal aimed at practitioners and those working in youth music in the country, which provides information, regular news and details of events relevant to the community. Below are some examples of how we established and built up an online audience for YMFS through regular blog posts and website content, communicated through various different social media channels, and our use of Livestream to host our monthly live discussion programmes, YMFS Feedback.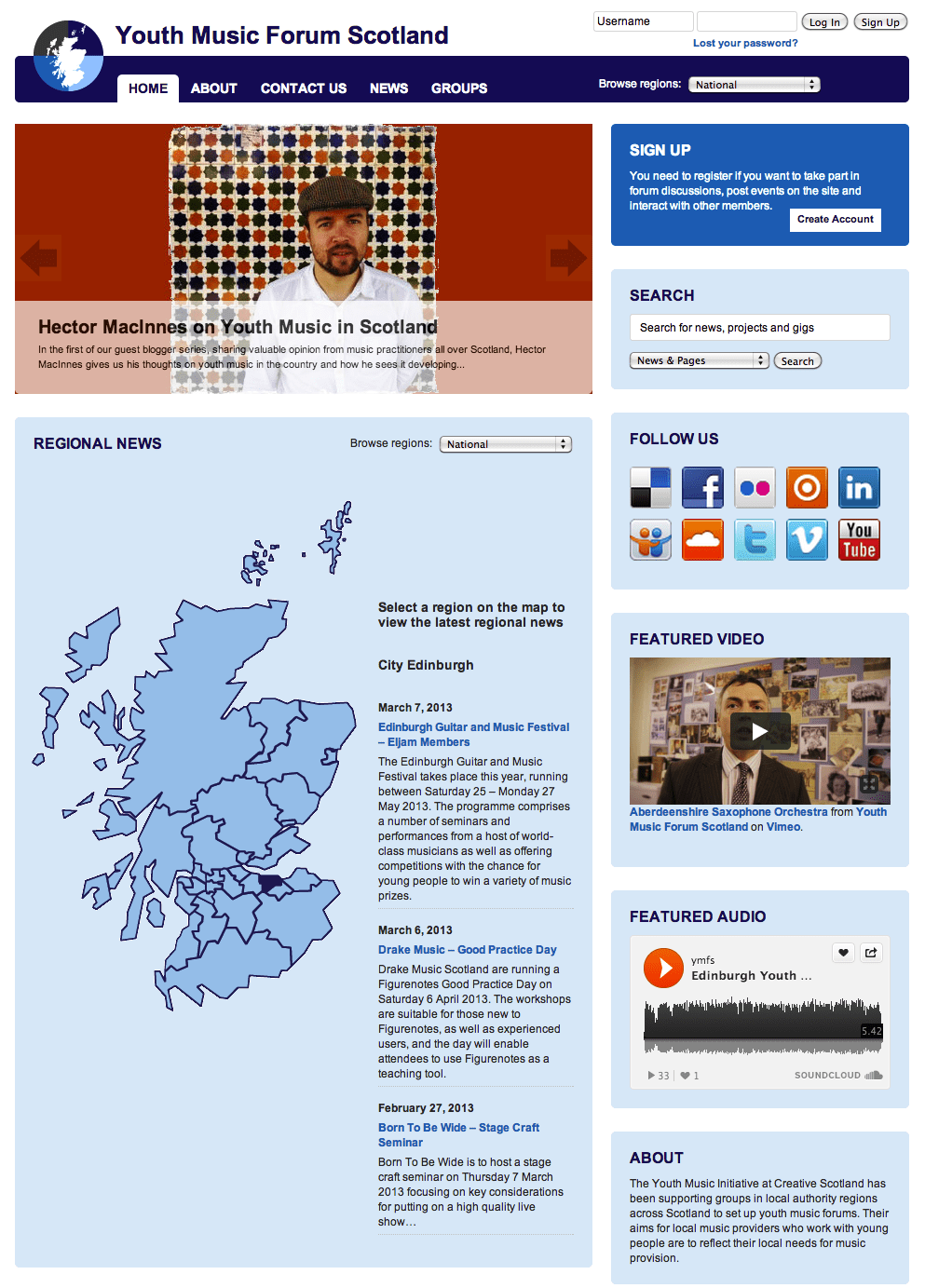 YMFS on Facebook: facebook.com/YMFScot
YMFS on Twitter: twitter.com/YMFScot
YMFS on Livestream: new.livestream.com/innerear/YMFSearlyyears

Scottish Jazz Federation 
We also create and curate content for the Scottish Jazz Federation (SJF), driving engagement through social media channels back through to our website where we house valuable information, responsive to the community.
We have found different platforms work very effectively for the SJF where they hadn't for YMFS. A great example of this is our use of SoundCloud in the running of competitions, where young people can upload their own tracks and share them privately with the SJF as part of the application process for the Young Scottish Jazz Musician of the Year competition. We also use Issuu to great effect, as a resource for members of the community to view and download our publications and research but also, again as a means of running competitions with application forms uploaded here and embedded across platforms.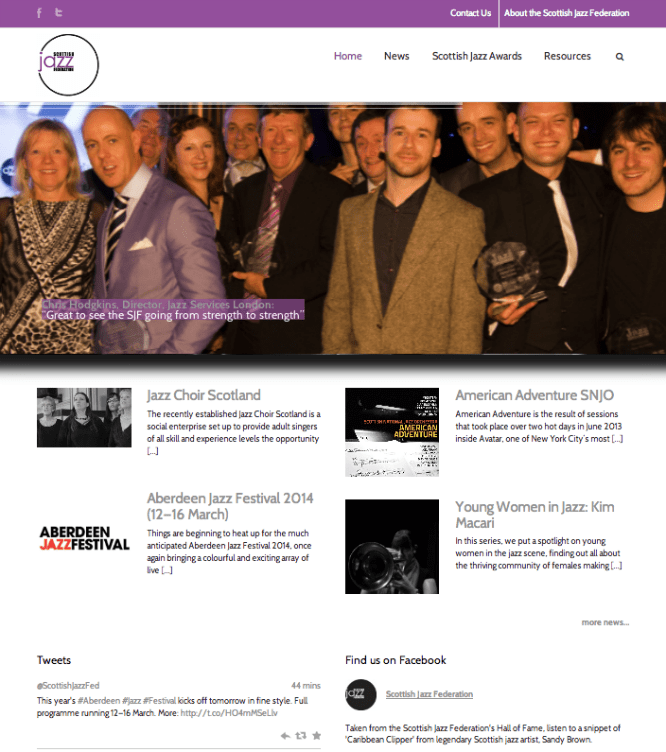 SJF on Facebook: facebook.com/scottishjazz.federation
SJF on Twitter: twitter.com/scottishjazzfed
SJF on Issuu: issuu.com/scottishjazzfed
SJF on SoundCloud: soundcloud.com/scottishjazzfederation

Radio Magnetic
Inner Ear's own online music brand and one of the UK's longest running internet radio stations, Radio Magnetic creates and curates content to engage its audience through social media.
Radio Magnetic has used the platforms MixCloud and Livestream to great effect in building up and maintaining a dedicated online following and strong presence across social media. Our use of MixCloud for uploading regular shows and mixes not only allows this content to be embedded across a wide range of services but the platform itself also has it's own share and follow functions which increase impact and interaction amongst our audience and that of our guest mix and show creators. Radio Magnetic has also utilised Livestream to great effect amongst our online following by streaming exclusive DJ sets and performances, tailored to our following and tied in to other successful brands such as Glasgow School of Art, Pleasure Principle and Rubadub. YouTube has also been used to great effect in establishing and building the RM online presence, with our uploads of popular live sessions from T Break at T in the Park festival, exclusive tuition sessions and many more pieces of relevant, share-able content.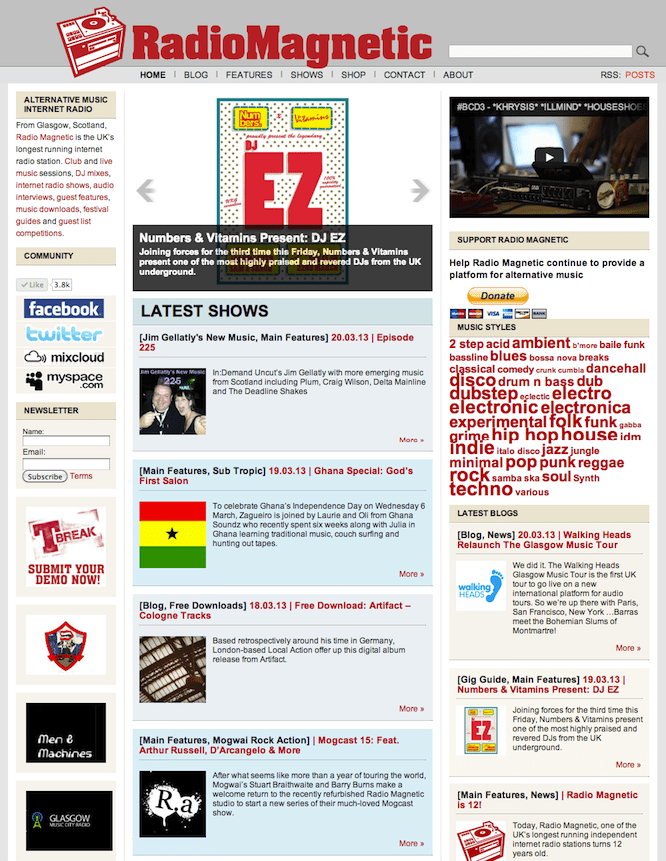 Radio Magnetic website: radiomagnetic.com
Radio Magnetic on Twitter: twitter.com/radiomagnetic
Radio Magnetic on Mixcloud: mixcloud.com/radiomagnetic
Radio Magnetic on Livestream: new.livestream.com/radiomagnetic
Radio Magnetic on YouTube: www.youtube.com/radiomagnetic
Other Links + Good Examples
Bandcamp:  astralblack.bandcamp.com
YouTube:  www.youtube.com/ab0181
Vimeo: vimeo.com/innereartv
Live Stream: new.livestream.com/innerear/sayaward2013