The Glasgow Chase is offering any budding explorers of the big city a unique chance to take part in a virtual treasure hunt made by Walking Heads specially for the Buchanan Street Apple Store, taking place 6PM on Thursday 24 July 2014.
Put your knowledge of Glasgow architecture music, art and cinema to the virtual test with clues and hints in the streets around us, answer questions, solve riddles and share your love of Glasgow's rich cultural heritage as part of this special one-off event.
Walking Heads, the audio specialists behind the Glasgow Music Walking Tour and Glasgow Film Festival's Cinema Treasure Hunt, have produced a short challenge for iPhone and iPad users who can attend on the day. Join the Walking Heads team and their range of walking apps to explore Glasgow's hidden treasures on foot and learn about some of the musical, cinematic, sporting and architectural sites that have made the city famous across the world. With a virtual chase created especially for this unique event, Walking Heads will guide players around the city via iPhone from the Apple Store to create an unforgettable, fun and informative experience.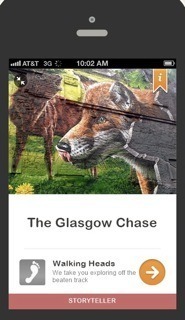 The Glasgow Chase features tasks based on two new audio tours created by Walking Heads for Culture 2014, more details from Walkingheads.net.
Registration for the event via the Apple Store website is required, guests are advised to arrive early to take part.
Register at the Apple Store Website: apple.com/uk/retail/buchananstreet