To mark the opening of Glasgow Building Preservation Trust's Wee Doors Open Day, Inner Ear and Walking Heads teamed up the the organisation to create a brand new audio walking tour of Glasgow's Landmarks. The tour launched to compliment Glasgow Wee Doors Open Day and the Festival 2014 programme but is available all year round to explore and enjoy, even when the doors are closed.
Find out more about Glasgow Building Preservation Trust and Glasgow Doors Open Day.
The free audio tour takes listeners on a journey to eight different destinations across the city, each a historic building with it's own unique story and hidden treasures, explored through the passionate voices of various experts featured along the way. Choose your own route on the map provided and visit iconic Glasgow landmarks from Glasgow City Chambers to Glasgow School of Art, from Glasgow Necropolis to Glasgow Cathedral. Discover secret stories, hidden histories and gain a special insight into the heritage of Glasgow's finest architectural achievements, all at the touch of a button.
Glasgow's Landmarks Tour features contributions from various experts throughout, including Gordon Urquhart (Glasgow City Heritage Trust), Ranald MacInnes (Historic Scotland), Ruth Johnston (Friends of Glasgow Necropolis), Liz Davidson (Glasgow City Council, City Design), Niall Murphy (Freelance Architect), Fiona Sinclair (Glasgow Institute of Architects), Mark Bains (Mackintosh School of Architecture) and Neil Baxter (The Royal Incorporation of Architects in Scotland).
Carefully selected by Glasgow Buildings Preservation Trust, Inner Ear worked closely with each of these experts, conducting audio interviews to extract the special stories and background to these iconic structures, each varying dramatically in style, purpose and historic relevance. Along with additional description and guidance from our presenters Amanda Mitchell and Benny Robb, the tour is brought to life on the full interactive app, available to download through the Guidigo app (available in the App Store and Google Play) if you have an iPhone or Android device.
Download the Guidigo app, register an account, search for Glasgow or Walking Heads and install the Glasgow's Landmarks tour – all completely free of charge.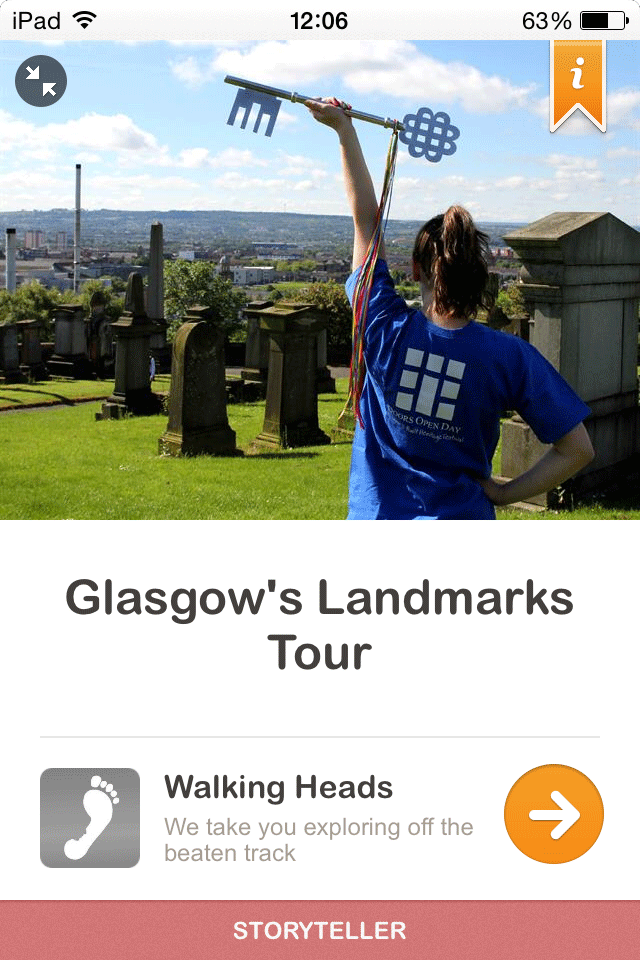 The entire audio tour is also available for everyone in MP3 version, currently on the Glasgow Buildings Preservation Trust SoundCloud, along with bonus tour content and some teaser clips.
The tour is also available for free on Bandcamp:
You can also download the map and information leaflet as a PDF.
Or get it on Issuu:
Inner Ear work on similarly bespoke tour commissions with Walking Heads on behalf of other organisations to complement festivals, events and more. We create engaging audio tours such as our Cinema City Treasure Hunt as part of the 2014 Glasgow Film Festival, our Glasgow Music and Edinburgh Comedy Tours, our upcoming Clydeside Promenade tour as part of the Festival 2014 celebrations and many more.
Get in touch to discuss how Inner Ear's creative approach to audio content can help promote your event, reach wider audiences and increase engagement.