Inner Ear have been working closely with the critically-acclaimed classical string ensemble, Edinburgh Quartet in many aspects of digital development including live streaming their concerts, producing visuals for live shows, designing and building a specially tailored new website, providing social media training and more.
Late Sessions Concert: Live Streaming
In celebration of the music of Edinburgh Quartet's patron, James MacMillan CBE, the ensemble performed a series of live shows titled 'Late Sessions' in December 2013, the first of which was held at Edinburgh's Summerhall and the second performed at The Grand Ballroom in Sloan's, Glasgow.
To expand the reach of these special shows, Inner Ear were asked to produce a live stream of the Quartet's highly-anticipated performance from the prestigious Grand Ballroom in Sloan's. The night of incredible classical music was well received by the warm and enthusiastic crowd both at the show in Glasgow and through our live online coverage, including a comment from a viewer in Peru.
The show is now available to watch back anytime.
Rush Hour Concert: Video Production
To document the Edinburgh Quartet's milestone performance of 'Schubert: Death and the Maiden' at St Andrews and St George's West Church in Edinburgh, Inner Ear were asked to film and produce video content of the show. For this special performance Edinburgh Quartet were joined by guest speaker Ron Butlin, novelist and poet, at the iconic old Edinburgh venue.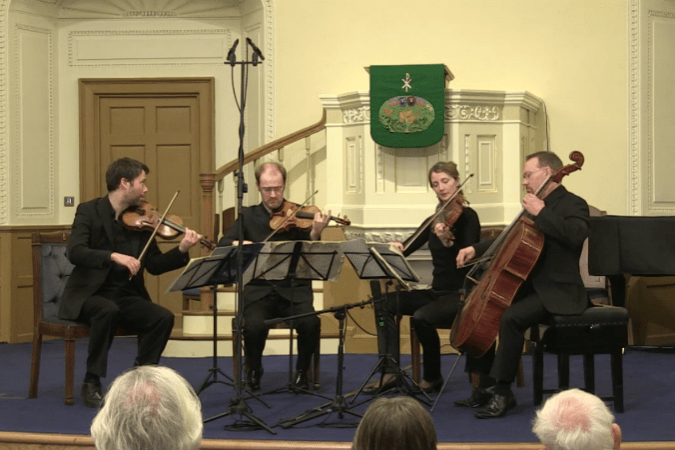 We captured the ensemble's stunning classical performance using 3 cameras positioned around the venue and moved throughout the show to give the audience a fuller viewing experience. Footage taken from these 3 cameras was then edited into a final piece of digestible and presentable video content.
Website Design & Build
As a central part of Inner Ear's digital development work with Edinburgh Quartet, we were asked to both design and build a new website which would house all relevant information and news in a tailored, specially designed manner to suit the ensemble's requirements.
To achieve certain goals on the website's design and build, such as an intuitive display of upcoming concerts on the homepage and a special live stream show section, Inner Ear drafted in a trusted website developer, Jen Thomson (Up Close and Pixelated). Jen helped to provide suggestions of potential layout and functionality options for the Quartet's consideration and, through working closely with both parties, we reached a number of agreed conclusions culminating in the final design of the website, now live.
Visit the Edinburgh Quartet's website.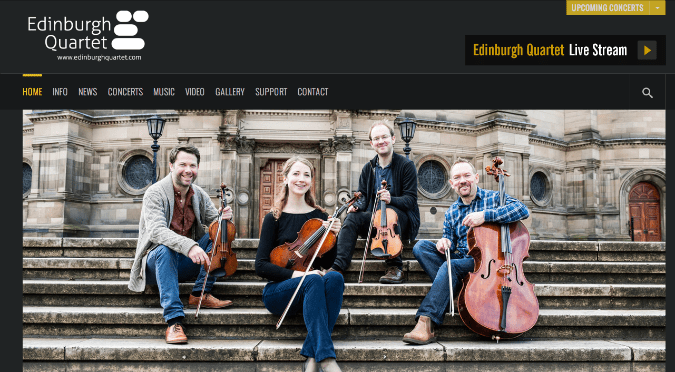 Social Media and Website Training
To follow up on the design and launch of the newly created Edinburgh Quartet website, Inner Ear communications team Anny Deery and Benny Robb visited some key members of the string ensemble's team in order to provide them with training on the best practice use of the site and all related social media channels.
Inner Ear met up with key people working with Edinburgh Quartet at Creative Scotland's meeting spaces in Edinburgh on two occasions, taking members through simple website management techniques and a variety of social media options available. The training sessions covered best practice examples when using a diverse range of relevant online social media platforms and gave advice on how these digital tools could best be put to work to further promote the Quartet's work and world-renowned heritage, built up from over 50 years of playing.
These training sessions resulted in the Quartet taking care of their own digital outputs, running all social media and website communications in a confident and knowledgable manner.
Tortured Love: Live Visuals
In an innovative move, Edinburgh Quartet specially commissioned illustrations to be used in live visuals which would convey and explore the show's themes of the forbidden and tortured love that inspired Janáček's "Kreutzer Sonata" string quartet, Bartók's first quartet and Mozart's D minor quartet K421. 'Tortured Love' was performed live at the legendary Royal Conservatoire of Scotland venue in Glasgow to an enthusiastic audience on Saturday 12 April 2014.
We worked with lighting and live visuals expert Shaun Murphy to achieve the desired look for the show, commissioning artist and illustrator Hannah Nixon to produce illustrations which could be manipulated consistently with the audio within the performance.
The Edinburgh Quartet brought Inner Ear in at the very initial stages of this idea to see what was possible within the limitations of elements such as budget and venue space. The initial requirements from the ensemble were for Inner Ear to design a stage layout incorporating a display surface for the visuals (more than just a big screen) which would be projection-based with audio reactivity on each individual instrument.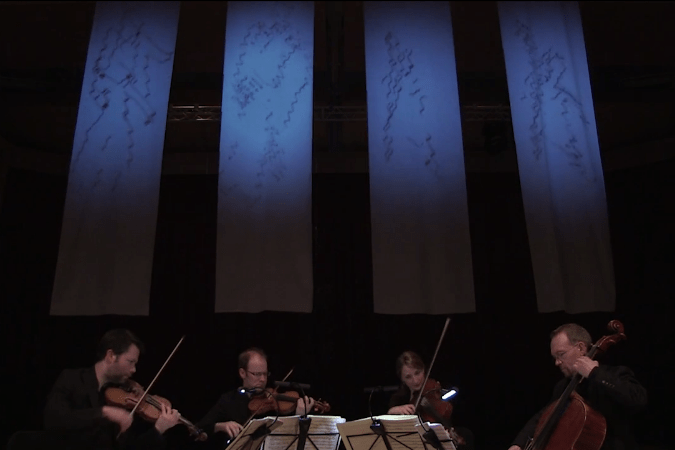 After some deliberating and close discussions between the Quartet, Inner Ear and our commissioned visuals experts, we went with a very clean and simple design of four long strips of fabric behind the players which accentuated the tall spaces in both venues and gave us the ability to have a one surface per player relationship with the visuals.  These four drapes frame the players and enable them to be lit in a more dramatic way than if they were just on an otherwise empty stage. The ensemble loved this design and want to use it in future shows. The specially produced illustrations were then animated and built into loops which were manipulated to fit the fabric hangs and work reactively to the audio of the players, achieved by attaching small microphones to the bridges of the instruments passing these signals to the computer handling the visuals.
Using Ableton Live, we built a FFT analyser for each instrument's signal, splitting up different frequency ranges and different attack times so we could tell bass from highs and staccato from legato. This information was sent internally via OSC to Resolume Arena where each audio parameter was tied to a corresponding video effect or parameter. The output of Resolume was mapped to the 4 hangs of fabric and the animations and illustrations were triggered manually in performance live with the music.
For The Mozart piece we simply lit the drapes. Janáček's "Kreutzer Sonata" is based on a Tolstoy story about a man who believes his violinist wife is having an affair with her pianist and in a fit of rage he kills them both. For Edinburgh Quartet's performance of that piece we came up with the concept of using hand-drawn illustrations to represent characters and actions from the story. The Bartók quartet was written when he was in his 50s and infatuated with a young violinist, Stefi Geyer. The unrequited love is felt through the piece. We complimented the subtle nuances Edinburgh Quartet's performance by projecting photographs of Bartók and Geyer on to the drapes.
First violinist Tristan Gurney wanted to use visuals in performance to do something bold and different and provoke a reaction from their audience. He said this project succeeded in doing just that.
As a content company, we are equally creative and technical. We're also embedded in the worlds of arts and culture, which is why Edinburgh Quartet came to us for this digital development project. To find out how Inner Ear could help develop your organisations digital outputs and help increase audience numbers and engagement through the use of live streaming and video production, get in touch to discuss with us.